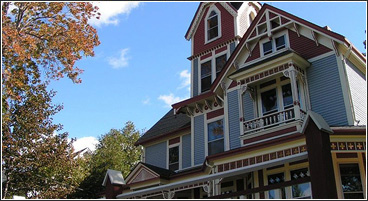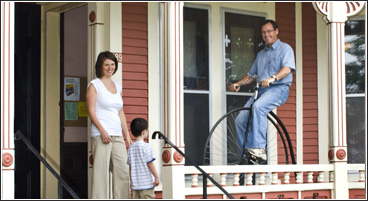 Museum Closure | Friday, May 29
Given the continued spread of COVID-19 and based on public health officials' guidance, the Museum will remain closed to the public. We will continue to monitor the situation and reopen when appropriate.
We are committed to keeping you informed as we receive additional information. Please join our social media channels where we continue to share updates and stories. 
For the most up-to-date information on COVID-19 and Nova Scotia's response, visit novascotia.ca/coronavirus.
Who We Are
Built in 1890 for newlyweds Clifford and Henrie Shand, this ornate, Queen Anne-style house was once considered a modern marvel in Windsor.
Featuring a fancy, original indoor bathroom, central heating, and stylish furniture from the Windsor furniture factory, the house stands as a testament to the Shand family legacy.
Admire the front hall's gleaming cherry-wood paneling. See a display of Clifford's memorabilia from the early days of the sport of bicycling. Take the servant's stairs to the upper floor and climb the tower for a magnificent view of the Avon River and countryside; a beautiful setting for this comfortable family home.