Shand Family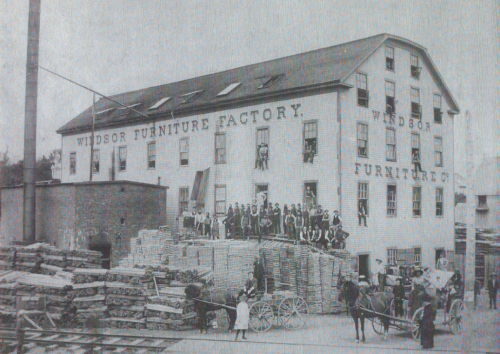 Andrew Peter Shand and his wife, Mary Curry, had many children, of which several passed away early in life. The survivors were Clifford James, Frederick, Florence, Ethel, and Nora.
Andrew Peter was one of the greatest entrepreneurs ever to live in nineteenth century Windsor. During his lifetime, he was part owner of the Windsor Furniture Factory, employing up to one hundred men, in peak seasons. In addition, he also acted as mayor of Windsor, president of the commercial bank, an investor and director of the Windsor Electric Company, operator of a large general store, owner of a shoe store, a barrel factory, a door and sash company, invested in an insurance company and in the ship-building industry.
When he had some spare time, he devoted himself to the affairs of his Baptist church. Andrew Peter was a very rare individual in another way: he believed that, by investing his money in local businesses and paying a fair wage, he helped stimulate the local economy. In this way, money stayed in Windsor and generated more wealth for the town.
The late nineteenth century saw Windsor evolve into an economic dynamo within Nova Scotia, thanks in large part to Andrew Peter Shand.
Meet the Shands
The Shand family were like most families today. They grew together in their family home, were active members of the community, worked hard to better themselves and found enjoyment in their time off. Like any of us, they saw success, failure, joy and sadness in their lives. While meeting them, you might even see a bit of yourself.
Clifford Shand (1863 – 1937)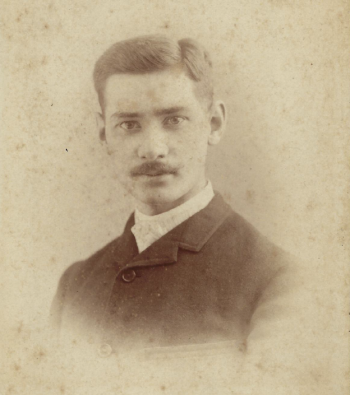 Clifford was born to an upper-middle class family, the second of nine children. His father, Andrew Shand, was a respected business owner who ran a general store and eventually expanded into furniture, footwear, and barrel making. Clifford would work in the family businesses, first as a clerk at the general store and eventually taking over operation of the shoe store, A.P. Shand & Co. Ladies & Gentlemen's Fine Footwear. He would work in this position until his retirement at 72 years of age.
Clifford also found a way to include one of his favourite pass times into his work. As an avid cyclist, he created a bicycle shop behind the shoe store where he could provide access to the relatively new mode of transportation to his community. His interest in the sport wasn't limited to selling equipment, as he was also an accomplished racer in the area. Between 1887 and 1891, he entered twenty-one races, placing in nineteen of them. He even set a provincial record in 1900 by cycling 60 km (100 miles) in 7 hours 9 minutes. He remained involved in supporting sport in Nova Scotia until his health began to decline after retirement.
Clifford and Henrie Vaughan married in 1890 and immediately set to building a place to call their own. They would go on to raise two children, Gwendolyn and Errol, in that house. The present day Shand House is much as it was after its completion in March of 1891 – even the furnishings are original to the Shand family who once called it home.
Henrie Shand (1864 – 1962)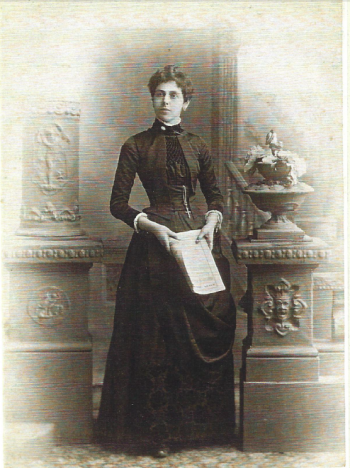 Like Clifford, Henrie was born into a well-to-do family. They were largely provided for by her grandfather's successful shipbuilding and shipping business. She was the only child of Sarah Smith and Rev. Henry Vaughan, who died shortly before her birth. Henrie's mother would remarry seven years later to Captain Thomas Aylward, a member of her grandfather's fleet. Her status allowed her to receive an education in art and music from the Boston Conservatory of Music, a love of education that she encouraged in her children.
Henrie's love of art can be seen around the Shand House, as many of her paintings hang from the walls. She lived in Shand House for 71 years, spending the last seven years with her daughter, Gwendolyn, who moved back to Windsor upon retirement. Henrie passed away in 1962 at the age of 98, leaving the house and its contents to Gwendolyn.
Gwendolyn Shand (1891 – 1982)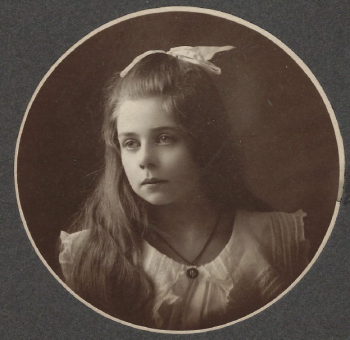 Born autumn of the same year that Shand House was completed. Hers was a pleasant childhood, in which she and her brother were surrounded by family and friends. As she wrote, "my childhood was passed among beautiful scenery, and the peace and quietness of small-town life." She attended public school at Windsor Academy and was encouraged to pursue higher education by both her parents. During a time when only 12% of women attended university, Gwendolyn was accepted to Acadia University, where she received a Bachelor of Arts in 1910. She stated that it was around that time she discovered her interest in social work, a field that would encompass much of her life.
She would continue her studies in London, England and at McGill University, eventually receiving a master's in social work from Carnegie-Melon University in Pittsburgh. Much of her career was spent working with immigration and her dedication to the field saw her become one of the founders of The Maritime School of Social Work in Halifax.
Gwendolyn returned to Windsor and Shand House upon her retirement, where she spent her time studying the area's history and writing the book "Historic Hants County". She gifted the house and its contents to the province upon her death in 1982.
Errol Shand (1893-1969)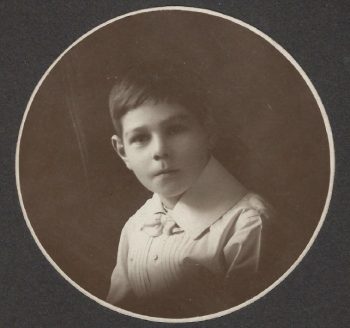 Errol was a curious child who took an interest in how things worked at an early age. Evidence of this is present in the Shand House attic, where a wireless radio can be found along with the other toys he and Gwendolyn would have played with. His mechanical interest followed him into adulthood, as he went on to graduate from Acadia University in 1913 with a Certificate in Engineering. Like his sister, he chose to further his education and received a B.Sc. in electrical engineering from McGill University in 1915, joining the Westinghouse Electric Corporation in Pittsburgh that same year.
The Great War had been raging in Europe for three years when Errol enlisted. He served with the No. 10 Canadian Heavy Siege Battery in France from 1917-1919. When his service ended, he went back to Pittsburgh to continue his work with Westinghouse. In 1936 he joined the Corning Glass Co. His interest shifted to the chemistry of glass, studying the durability of different types by smashing them in his basement. His research would be important in the development of Corningware, the ceramic cookware with the blue cornflower pattern that many would find familiar today. He would eventually share his expertise in this field, releasing a handbook on glass engineering in 1958.