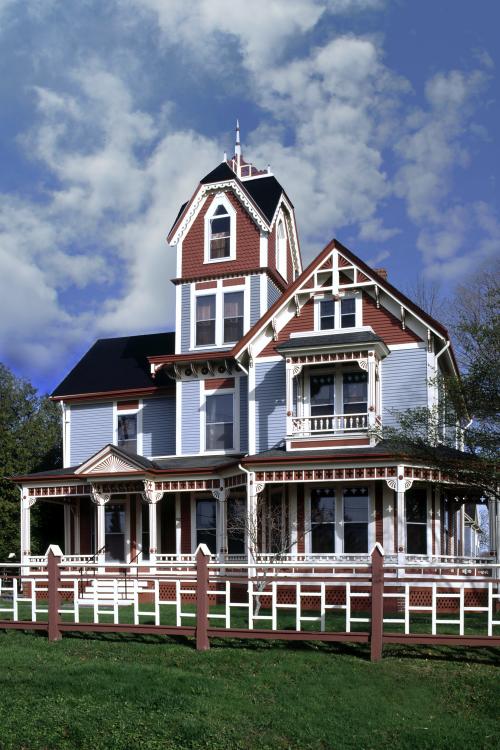 ​
Buildings can become more than inanimate objects. Over time, they develop character and hold a special place in people's lives. Family homes create special relationships with those who live and grow in them, even going as far as feeling like a part of the family – this is especially true of Shand House. It is unique in that it was only ever home to the Shands, a lasting testimonial to life in a modern turn of the century home and of the people who lived there.
Building the Nest
When Clifford and Henrie married in 1890, they didn't waste any time preparing for the future. After Clifford's father gifted them valuable land in a desirable part of town, they set to building. Clifford based the design of their new home on layouts made available in Shoppell's Modern Houses, a resource for potential home builders. It was built by master builder Joseph Taylor, who was also responsible for the construction of Christ Church and the Anglican Rectory in Windsor, which remain in use today. After ten months of work and a cost of around $6,000, the home was completed in March of 1891 – just in time for Gwendolyn's arrival in September.
When completed, the Shand House was a picture of modernity. It had a separate bedroom and staircase at the back of the house for a live-in maid. Small buttons included in each room would ring the call box by the kitchen, used to summon the maid. It had a plumbed bathroom, central heating, and electricity was installed in 1892. Those amenities were on immediate display to visitors as they entered the home, where an electric firebox and ornate lamp were found. The interior was richly decorated with mahogany, oak, cherrywood, and stained glass – all hallmarks of a tasteful home of the time. The exterior was adorned with a fancy woodwork likely made at Curry's Mill and Curry's Sash and Door Factory. The current, lovely gingerbread trim was created by craftspeople at the Sutherland Steam Mill. Inside, the house was furnished largely by the local Windsor Furniture Factory, which was co-owned by Clifford's father and uncle, Andrew Shand and Mark Curry.
Errol would arrive two years later, completing the Shand family. They went on to spend almost twenty years growing together in the home. In the early 1910s, Gwendolyn and Errol began their college educations, marking the moment in time when the family began to live largely apart, returning home for special occasions and family gatherings.